Deer Valley Area

Empire Pass
Empire Pass is located in Empire Canyon at the top of the Deer Valley Resort ski area. Real estate development is limited in this 3,500-acre area since approximately 90% of its land has been designated undevelopable open space. Only 550 homes or condominiums units are permitted in this area. Most properties in Empire Pass offer direct ski access to Deer Valley's ski slopes and many of them carry the added benefit of membership in the Talisker Club with all its amenities. The majority of the condominiums and single-family homes in this area are second homes and are part of the Talisker Club. There are slope side single family homes and ski-in/ski-out condominiums, rich in first-class amenities. The Talisker amenity package is available and includes access to the Tuhaye Golf and recreation facilities well suited for summer and winter recreation activities. Montage luxury condos, estate homes, building lots and private residences are available to the discriminating buyer.
---
Upper Deer Valley
Upper Deer Valley is located 8,000 feet above sea level and functions as a secondary base area around Deer Valley Resort's mid-mountain area. Now known as Silver Lake Village, this area used to be Lake Flat, Park City's first mining settlement. The lake was inadvertently drained by a mine tunnel, and is now home to luxury ski-in/ski-out homes and condominiums. Upper Deer Valley is only two miles from downtown Park City, and is accessed by Royal Street from the base of Lower Deer Valley, or Ontario Canyon Road (known as the mine road) by way of Marsac Avenue by the turnabout. There are many excellent restaurants, shops, hotels and spas in Upper Deer Valley, along with over 600 condominiums. Upper Deer Valley residents enjoy quick and easy access to the slopes, ranging from a short walk to the ski runs to direct ski-in/ski-out areas.
---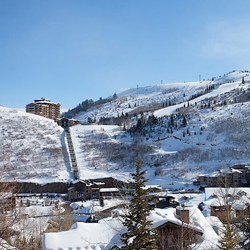 Lower Deer Valley
Lower Deer Valley is host to many homes and condominiums that enjoy the convenience of being a short distance to the Snow Park Lodge at the base of the Deer Valley Resort, along with easy access to historic Old Town and its shops and restaurants. Deer Valley offers many year-round activities from their winter skiing to their summer concerts. There are over 900 condominiums in Lower Deer Valley along with many beautiful homes and terrific building lots with unobstructed resort views.
---
Deer Crest
Deer Crest is a gated community located in the eastern portion of Deer Valley. There are 144 homes or home sites there and they may be accessed from lower Deer Valley, or the Mayflower exit off of Interstate-40. This area offers luxury ski-in/ski-out homes, condominiums and home sites with views of the Deer Valley ski area runs and the Jordanelle Reservoir. The prestigious St. Regis Resort is located in this area along with a limited number of condominiums in Deer Crest Village.